There is always somewhere new to consider for your event in London!  Here is a selection of the latest venues for 2022:
Convene at 22 Bishopsgate
Convene are proud to be opening their first London location on 3rd May this year.  The prestigious venue is located at 22 Bishopsgate in the heart of the city.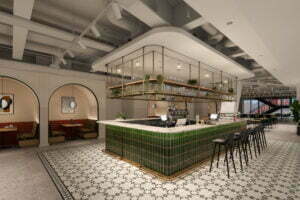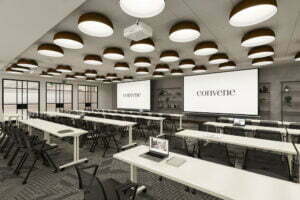 Boasting over 3715sqm of meeting space over two floors, the venue can accommodate up to 400 delegates in their largest space the Bishopsgate Forum.  A further two rooms will take over 200 delegates in each.
Main plenary rooms come with their own catering, technology and exhibition space if required.  When using the Bishopsgate Forum alone, the venue can provide a further eight breakout rooms taking between 20 – 200 delegates.  State of the art built in technology, on site A/V support, comfortable seating and high quality hospitality add to the premium experience that Convene venues are renowned for.
Convene at 22 Bishopsgate will also offer unique, relaxing workplace for individual members. The space will feature a beautifully designed bar, a barista coffee area and table serviced dining
One Hundred Shoreditch
Located in a prominent position on Shoreditch High Street, One Hundred Shoreditch is home to 258 hotel bedrooms, six restaurants and bars, a cocktail bar in the basement and a rooftop bar and terrace with panoramic views across East London.
The bedrooms and suites are designed in a cool and contemporary style allowing time for guests to relax and recharge. Finishes in neutral tones and featuring bespoke art work. Many of the bedrooms have Juliette balconies and some even come with large outdoor terraces.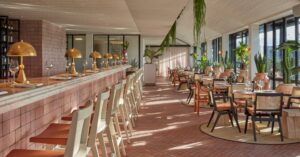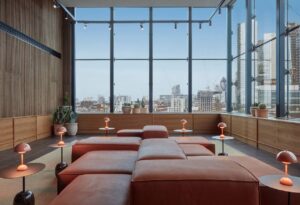 The hotel offers five meeting and event spaces suitable for most events from private dinners or receptions to meetings and even weddings.
The One Hundred Room, with its floor to ceiling glass windows, offers spectacular views of the London city skyline. Suites can be used for private intimate parties and for far larger more informal gatherings, why not take over the restaurant or hire the basement bar?
From May this year it will also be possible to hire the rooftop bar for your summertime event. Big or small, One Hundred Shoreditch is an ideal venue for your next meeting or social gathering.
Chateau Denmark
Inspired by Denmark Street's iconic history Chateau Denmark opened in April 2022 , mixing creative expression with fine architectural detail. The new and independent brand is set across 16 buildings, with 55 Session Rooms and Apartments, featuring distinct design narratives reflecting each building's history while dialing into the rebellious spirit of Soho.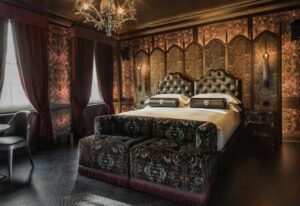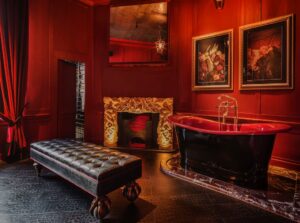 Apartments are located in a collection of Grade II listed townhouses, a mews house and mansion buildings along Denmark Street. Starting from 35sqm, expect grandeur through illustrative & evocative wallpaper, with original timber beams, dark paneling along with a sculptured fireplace and roller-top red lined bathtub.  These apartments will provide unique event space for around 40 guests, either for private dinners or drinks receptions.
Throughout 2022, Denmark Street will see the arrival of Chateau' Denmark's lounge bar, basement club, plus additional venue spaces ranging from 360 – 2000 capacity.
Oceandiva London
Welcome Aboard… the first revolutionary CO2 neutral event venue on the River Thames.  Spanning across three decks, this unique blank canvas venue provides clients the ability to host sensational events on the river, whether static or sailing, in the heart of the city.  This exceptional vessel is designed to compliment London's iconic skyline, connecting guests to London's world-renowned landmarks and surroundings. Guests may embark or disembark the vessel from London Bridge, Tower Bridge, Canary Wharf, Greenwich and Excel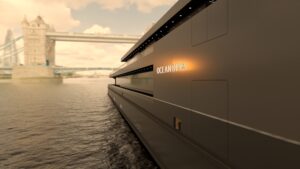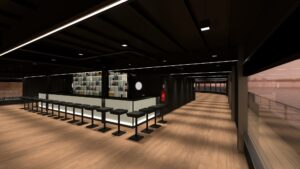 The venue boasts capacity for 600 guests for dinners and 1500 guests for receptions with spacious, flexible event spaces, indoors and out. This versatile venue can play host to a wide range of events including award ceremonies, drinks receptions, conferences, dinners, film premiers, fashion shows, product launches, exhibitions and much more.
Sailing towards a greener future, for every event held onboard, Oceandiva London will be able to leverage technology to help track and measure the carbon impact of the entire event. By measuring carbon emissions, per event and on an annual basis, the venue will be able to balance them through tree planting and the purchase of carbon units via the Woodland Carbon Code (WCC), and the funding of projects certified by Verified Carbon Standard (VCS). Committed to creating a more sustainable future.
Contact us to find out more about these exciting new venues!